Auto Accident Lawyers in Fort Worth, Texas
How does illegal speeding impact a car accident claim in a Fort Worth Texas crash?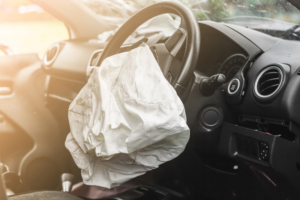 Car accidents in Texas occur for a variety of reasons, but many times an occurrence of illegal driving activity is the cause.  This may include speeding, reckless driving, DUI, or distracted driving.  Of these illegal behaviors, speeding is probably the most common reason for car accidents that result in increased physical impairment and property damage.  Speeding occurs when a driver exceeds the posted speed limit, or does not alter their driving behavior to adjust to various external factors that may include poor weather conditions, heavy traffic, or road construction.   Reaction times are reduced when a car is traveling at a higher rate of speed and drivers are unable to safely navigate around other vehicles with whom they share the roadway.  When a car crash occurs in the Fort Worth Texas area, experienced car accident attorneys at The Cooper Law Firm will be instrumental in securing damages for accident victims who have been harmed by illegal driving actions of negligent speeding drivers.
 Speeding vehicles often lead to severe harms including long lasting, or permanent physical injuries and expensive property losses.  Cooper Law Firm attorneys are familiar with the process of valuation associated with residual physical harms and property replacement costs after a car accident in Fort Worth.
 Reasons for speeding.
 Speeding drivers should be held liable for their negligent behavior when other people are injured on Texas roadways.  Sadly, factors that increase the likelihood for speeding are associated with other illegal behaviors such as drinking and driving, or taking drugs and driving, in addition to road rage encounters, or racing.  Speeding may also occur because a person is not paying attention to changes in posted speed signs, or is otherwise distracted.  Cooper Law Firm attorneys can assist in fault determination and the cause of the speeding may result in additional criminal charges, which will most likely make it easier to win a comprehensive damage award in a civil action for the same accident.
Criminal and civil charges.
Accident circumstances will determine what, if any, criminal and/or civil charges will be imposed upon a speeding driver in Fort Worth Texas.  Speeding is considered a negligent act, so a driver may face jurisdictional fines, citations, suspension, and/or jail time, in addition to a civil lawsuit for damage compensation.  Cases that involve speeding are taken seriously in Texas to improve roadway safety for all drivers. Impact crashes from speeding often result in severe and devastating physical injury along with expensive property loss.  Physical injury can include broken bones, crush injuries, internal organ damage, traumatic brain injury, spinal cord dysfunction, loss of limbs, paralysis, and death.  A skilled auto accident attorney in Dallas at the Cooper Law Firm will know how to approach a civil lawsuit that has a criminal component proving negligent actions by the at fault driver and a deviation from an owed duty of care.
Damages. 
Injury victims and their families can recover damages for their economic and non-economic losses. These losses may include the medical expenses they incurred, in addition, to future medical costs, psychological treatment, rehabilitation costs, lost wages and benefits, property damage, loss of companionship and support, and funeral and burial expenses.  Cooper Law Firm car accident attorneys can manage insurance red tape, research impacts from criminal charges and seek necessary compensation to cover the harmful injury losses, and wrongful death losses when fatal injury occurs after a speeding accident.
Exemplary (punitive) damages are contingent upon proving that a defendant deliberately, with reckless disregard, acted in a manner to cause harm to another person, such as speeding.  Punitive damages must be sought in a separate case, after compensatory damages have been awarded. Texas law limits that amount to two times the actual damages up to $750,000 in total damages, or $200,000.
Statute of limitations.
Every car accident case is unique and a Texas auto accident attorney can advise victims of deviations from the two year statute of limitations in Texas for legal actions surrounding personal injury and wrongful death actions in Fort Worth.  The clock starts from the time of the injury, or death and government entities require a shorter filing time at 180 days for tort claims and cap damages, depending upon the government unit involved.  The state and municipalities allow up to $250,000 per person and $500,000 per incident. All other levels of government allow for $100,000 per person and $300,000 per incident.
Insurance.
Texas law requires drivers to prove they can pay for accidents they cause, and most do this through the purchase of auto insurance.  Liability insurance often pays for repair, or replacement of damaged property and medical expenses for an accident victim when another driver is at fault.  Texas is a "fault" state and the driver engaging in the negligent behavior (speeding), will be held responsible for losses to any crash victims utilizing the 51% fault rule in Fort Worth Texas where an injured person can be up to 50% responsible for an accident and still collect damages, but if an individual is 51%, or more responsible for the accident, they will not recover compensation.
Consult with an experienced car accident attorney in Fort Worth Texas.
Individuals, or their loved ones who have suffered injury, or death at the hands of a negligent driver should contact The Cooper Law Firm for assistances.  Skilled attorneys will represent accident victims toward damage recovery from negligent drivers.  When fatal injury is a result of a car accident, a wrongful death action may ensue and compensation will be requested to cover medical expenses up to the time of death, funeral and burial expenses, future lost wages, pain and suffering, and punitive damages.  A competent auto accident lawyer at the Cooper Law Firm can objectively speak on a Fort Worth car accident victim's behalf with insurance companies, or in a courtroom to yield a comprehensive damage award.
Cooper Law Firm
N. Eric Cooper
Address: 621 Hemphill St,
Fort Worth, TX 76104
Telephone ; (903) 297-0037
Toll-Free: 1-855-297-HURT (4878)
Facsimile: (903) 236-0035
Sources.
https://statutes.capitol.texas.gov/Docs/CP/htm/CP.16.htm#16.003
https://statutes.capitol.texas.gov/Docs/CP/htm/CP.101.htm
https://statutes.capitol.texas.gov/Docs/CP/htm/CP.41.htm
https://statutes.capitol.texas.gov/docs/TN/htm/TN.550.htm