Fort Worth Truck Accident Lawyers and Legal Counsel
Fort Worth Texas truck accident cases can be complex and require experienced legal counsel.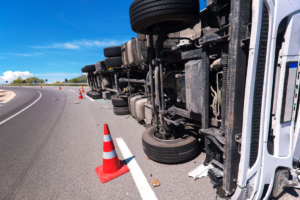 The United States Department of Transportation Federal Motor Carrier Safety Administration (FMCSA) regulates the trucking industry to ensure standardized safety rules across the United States. The Cooper Law Firm truck accident attorneys understand the federal regulations and how they overlap with Texas statutes addressing driver actions in Fort Worth accidents, including hours worked, proper licensure and training, periodic medical screening, and screening for drug and alcohol use, in addition to statutes that reveal third party responsibility involved in the transport of goods and services, that may include cargo loaders, maintenance personnel, truck and parts manufacturers, and trucking companies and owners.
 Texas truck accidents.
Texas 2018 truck accident data revealed the highest number of large trucks involved in fatal crashes at 658 and the largest number of total vehicles involved at 5,222.  In many cases, it is difficult to pinpoint causes for a truck accident, as outside factors including weather, other drivers and roadway conditions must be taken into consideration, but Fort Worth truck accident lawyers will build a case by:
sending investigators to the scene,
reviewing police, witness, and medical reports,
hiring financial experts for loss valuation,
assessing cause of the accident, and
drafting and filing complicated insurance and legal documents.
Cooper Law Firm semi-truck accident attorneys in Fort Worth will fight for client rights to compensation for injuries and property damage loss utilizing federal regulations and Texas State laws that support reparation to truck accident victims.
Commercial driver licensure (CDL). 
Commercial driver training must be completed before the granting of a commercial driver license (CDL) because of the difficult maneuverability and specialized mechanisms in big rigs and tankers. In the United States there was a 9% increase in fatalities caused by truck accidents in 2017, and 72%  of those people were occupants of other vehicles.  Tanker trucks may be more dangerous than regular large trailer carriers because of the weight distribution and the type of substance they are carrying, such as flammable liquids, pressurized gases, or highly toxic chemicals that are difficult to clean up after an accident.  Individuals should contact a semi-truck accident lawyer in Fort Worth to discuss legal options after an accident involving a big rig, or tanker. 
Federal restrictions.
Commercial motor operators that drive big trucks carrying cargo are restricted by the federal government regarding the maximum hours driven; minimum hours off duty; and required rest periods after 60/70 hours of driving over 7/8 consecutive days. Commercial motor vehicle drivers that are carrying people have more stringent restrictions.  The United States Department of Transportation, 49 C.F.R. part 387, subpart A, mandates minimum levels of financial responsibility to address accident losses.
 Loss calculation.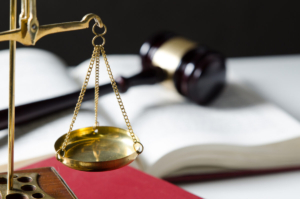 Economic and non-economic losses, such as lost wages, medical bills, legal fees, property replacement and pain and suffering are addressed in loss valuations with punitive damages in some cases.  Expenses for medical bills and lost wages from work are simply calculated in a claim for damages, but estimates for pain, scarring, emotional harm, or short and long term psychological and physical limitations are not as easy to calculate.  Valuations are determined with input from semi-truck accident lawyers, insurance companies, and juries who must consider what is a fair and reasonable amount of money to cover the loss, based on a compilation of evidence provided to the court.
Additional parties.
Semi-truck accident lawyers at the Cooper Law Firm are skilled at identifying additional parties to the truck accident claim, separate from the driver, including trucking companies, mechanics, or manufacturers of a truck and/or parts, and understand the trucking industry and relevant regulatory laws.  They can determine the best legal approach to individual cases such as mediation, arbitration or going to trial, while staving off unnecessary pressure from insurance companies who want to swiftly close out a claim.
Statute of limitations.
After a truck accident in Fort Worth, it is important for victims to understand that they have a limited time to take legal action against negligent parties.  The Texas statute of limitations for personal injury and wrongful death actions is two years from the time the injury, or death.  Government entities require a shorter filing time at 180 days for tort claims and cap damages depending upon the government unit involved.  The state and municipalities allow up to $250,000 per person and $500,000 per incident. All other levels of government allow for $100,000 per person and $300,000 per incident.
Damages.
Utilizing the 51% fault rule, truck accident lawyer Fort Worth, Texas will explain how loss valuations determine the compensatory damages requested for lost wages, medical bills, medical care, and treatment, plus household expenses, and non-economic loss for pain and suffering, loss of consortium, or  companionship.  Exemplary (punitive) damages are contingent upon proving that a defendant deliberately, with reckless disregard, acted in a manner to cause harm to another person, such as driving while impaired.  Punitive damages must be sought in a separate case, after compensatory damages have been awarded and Texas law limits that amount to two times the actual damages up to $750,000 in total damages, or $200,000.  Drivers are required to file accident reports with Texas Department of Motor Vehicles within 10 days of an accident when the accident resulted in fatality, injury, or property damage of $1,000 or more.
Wrongful death.
A recent government study identified driver fatigue as a  key factor in 31% of the cases where the driver died in approximately 13% of large truck accident cases annually in the United States.  Family members, or legal representatives must file a wrongful death legal action within two years and a Texas wrongful death attorney in Fort Worth can assist with damage valuations and timelines relevant to each case. Compensation may cover medical expenses, funeral and burial expenses, lost wages, pain and suffering, and punitive damages.
Hire legal counsel.
Truck accident victims should take steps to minimize additional stress by hiring competent legal counsel at the Cooper Law Firm who can objectively speak on their behalf in a courtroom, and work toward catastrophic damage recovery.
Cooper Law Firm
N. Eric Cooper
Address: 621 Hemphill St,
Fort Worth, TX 76104
Telephone ; (903) 297-0037
Toll-Free: 1-855-297-HURT (4878)
Facsimile: (903) 236-0035
Sources.
file:///C:/Users/oconz/Downloads/2018%20LARGE%20TRUCKS%20Traffic%20Safety%20Fact%20Sheet.pdf
Sources: https://www.statista.com/statistics/191544/fatal-large-truck-crashes-in-the-us/
https://www.fmcsa.dot.gov/regulations/hours-of-service
https://www.fmcsa.dot.gov/safety/research-and-analysis/large-truck-crash-causation-study-analysis-brief https://www.truckinfo.net/trucking/stats.htm
https://statutes.capitol.texas.gov/Docs/CP/htm/CP.16.htm#16.003
https://statutes.capitol.texas.gov/Docs/CP/htm/CP.101.htm
https://statutes.capitol.texas.gov/Docs/CP/htm/CP.41.htm
https://statutes.capitol.texas.gov/docs/TN/htm/TN.550.htm