Industrial Injury Lawyers in Longview, Texas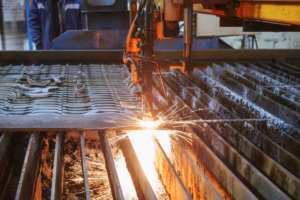 Industrial plant and manufacturing employees are among the most hard-working men and women of America. Every day, these workers sometimes risk life and limb to get their jobs done. Most days, nothing goes wrong. However, industrial plant and manufacturing workers face unique dangers on the job. Industrial workers who are employed on drilling rigs, in mines, in warehouses, in gas and oil refineries, in factories, and at construction sites face some of the highest risk of injury on the job. As manufacturing equipment and plants age, workers may be more at risk of industrial accidents.
When employers fail to update equipment, provide workers with proper training, or violate safety procedures to promote the bottom line, workers can suffer catastrophic injuries. If you or a loved one has been injured on the job, the Cooper Law Firm are industrial injury lawyers in Longview, Texas who may be able to help you seek a recovery to cover your medical expenses, lost wages, rehabilitation costs, and pain and suffering damages.
You deserve to have a safe workplace. When employers violate federal and state safety standards, they should be held accountable. If you've been injured in an industrial accident, you may be able to collect a recovery under federal and state laws, worker's compensation insurance, and personal injury and wrongful death laws. Investigating an accident can be complex. Navigating these legal and insurance systems can be challenging. However, you and your family don't have to do it alone. The Cooper Law Firm are industrial injury attorneys in Longview, Texas who work closely with victims and families to help them get the justice they may deserve.
Have You Been Seriously Injured on the Job? Contact a Longview, Texas Oil Field Injury Lawyer
 Chemical fires, explosions, equipment failure at an oil refinery, or car accidents related to shipment can result in serious and disabling injuries. Victims and families may struggle to pay medical expenses, cover rehabilitation costs, and make ends meet without a regular paycheck due to missed days at work. Worker's compensation may be able to compensate most victims for their medical expenses, rehabilitation costs, and lost wages, but worker's compensation may not cover all your expenses. If your injury was the result of another company's negligence or neglect or due to safety issues, you may be entitled to pursue a third party wrongful death claim or personal injury claim under the law. If you have been seriously injured, you need the Cooper Law Firm, Longview, Texas oil field injury attorneys on your side.
Understanding your injuries: There have been reports of workers being fired, being pressured not to report injuries or the accident, or workers being sent home without medical treatment. Any injury you suffer on the job should be reported. Some injuries may be serious, but you may not experience symptoms immediately after the injury takes place. What are some oil field and industrial injuries?
Traumatic brain injury. A fall from height, a slip and fall, or being hit on the head by falling objects can result in traumatic brain injuries. These injuries are incredibly serious. Victims can suffer memory loss, balance issues, sleep problems, confusion, and mood changes. Mild traumatic brain injury may not be diagnosed immediately after an accident takes place. It may be several hours or even days before a person experiences sleep problems, mood changes, memory issues, or other symptoms. If you hit your head on the job, seek medical attention right away and report your injury to your employer. The Cooper Law Firm are industrial injury attorneys in Longview, Texas who work hard to protect the rights of injured workers.
Chemical exposure. Some industries expose workers to toxic chemicals. When employers fail to provide proper safety gear, training, and equipment, workers can suffer exposure to dangerous chemicals. If there is a leak from defective equipment or if an issue isn't repaired immediately, workers can face exposure to toxic materials. For instance, some work sites must be properly ventilated to protect the safety of workers. Workers can suffer burns, rashes, or lung injuries. Brain damage can occur due to long-term or even short-term exposure to certain chemicals. If you've been injured, you may be entitled to pursue a personal injury claim or worker's compensation claim under the law. Contact the Cooper Law Firm, Longview Texas industrial injury attorneys today.
Amputations, spinal cord injuries, burns, and other serious injuries. Serious injuries can affect your ability to return to work. They can change your life forever. If you've been seriously injured, it is important to understand your rights and your legal options. The Longview, Texas industrial injury lawyers at the Cooper Law Firm can help you.
Contact our oil field injury lawyers at the Cooper Law Firm, in Longview, Texas today. Our firm can review the details of your case, evaluate your claim, and fight worker's compensation or negligent parties to help you get the recovery you may deserve under the law. You are not alone.
Protect Your Rights in Longview, Texas 
If you've been hurt on the job there may be many remedies available to you to protect you if you've been injured. Whether you'll pursue a claim through worker's compensation, a personal injury lawsuit, or through a wrongful death lawsuit, will depend largely on the facts of your case. You may only have a limited amount of time to seek a recovery under the law. Contact the industrial injury attorneys at the Cooper Law Firm in Longview, Texas today. Our firm prides itself on protecting the interests of workers when they are facing a fight with corporate interests. Companies try to protect their bottom lines, but you have rights as well.