Big Rig Accident Lawyers in Texas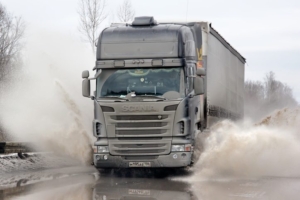 The laws governing commercial truck drivers and shipping companies differ from the laws governing passenger vehicles. Commercial vehicles must abide by strict federal and state laws regarding the weight that these trucks can carry, the training of the drivers behind the wheel, and the length of time a driver can be on duty. Because these laws differ, when individuals are injured in truck accidents, personal injury recovery may involve more parties. For instance, truck companies are required to carry higher levels of insurance in order to cover the higher liabilities of driving a heavy vehicle. When people are injured in truck accidents, the injuries also tend to be more severe, requiring longer recovery periods, longer rehabilitation periods, and may require more time away from work. If you've been hurt in a commercial truck accident, having a Texas big rig accident lawyer on your side can help you get the best possible outcome under the law. The Cooper Law Firm are commercial truck accident attorneys who work closely with victims and families to help them get the justice they may deserve.
What is the Value of My Texas Commercial Truck Accident Personal Injury Case? 
In a personal injury case, an attorney will review medical expenses, rehabilitation costs, lost wages, and pain and suffering to determine the value of damages in your case. A commercial truck accident attorney will also do the same after a truck accident. However, your big rig accident attorney will also consider future medical costs, estimated future rehabilitation expenses, and pain and suffering damages. While you'll likely have medical bills and pay stubs to record past losses, projecting future losses may involve expert opinions and a closer look at your injuries. A qualified commercial truck accident attorney can look at the nature of your accident and determine a figure that is fair and accurate.
The value of your commercial truck accident case will also depend on the negligence of the other driver. You can only collect damages in Texas if the other driver is found to be 51% or more at fault for the accident. Texas follows a modified comparative fault law, meaning that your damages will be reduced based on the percentage at fault you have in the accident. It can be difficult to determine fault without understanding federal and state truck laws. Drivers are required to abide by laws and when they break these laws, it can affect their level of negligence in an accident. Some important laws relevant to commercial truck accidents are:
Federal hours of service restrictions. Truck drivers are required to take rest breaks and limit the number of hours they spend consecutively on the road. In some cases, drivers break these laws and companies place pressure on drivers to put in longer shifts than permitted under the law. There are cases where drivers and companies falsify logs. A savvy commercial truck accident attorney can look at delivery times and other records to determine whether truck companies or drivers have broken these laws.
Weight limits. Trucks are required to limit the weights of their loads. When they fail to do so, deadly and dangerous accidents can occur.
Medical and training requirements for drivers. Drivers are required to pass physical exams and be properly trained for the job. Unfortunately, some drivers take medication that can interfere with their ability to perform their duties. Other drivers may take drugs to stay awake. Truck companies are also required to properly train their drivers. However, some companies place the bottom line over driver and public safety.
Truck repairs. Truck companies are required to properly maintain their vehicles. When companies cut corners, accidents happen.
These are just some of the laws that commercial truck drivers and companies must follow. If you or a loved one has been injured in a truck accident in Texas, there may be a range of factors that can impact the outcome of your case. You may be entitled to receive money from insurance companies, drivers, or even from the commercial truck company that owns the truck. The Cooper Law Firm evaluates all stakeholders to help families get the recoveries they may deserve.
Justice for Big Rig Accident Victims in Texas 
Big rig accident victims and their families face a range of challenges. It can be tough to deal with insurance adjusters and legal issues while also trying to recover from a serious injury. Truck companies and insurance companies may have teams of attorneys fighting for their interests. You deserve to have a commercial truck accident attorney on your side as well. Yet, you may only have a limited amount of time in Texas to seek compensation for your injuries. Contact the Cooper Law Firm today to learn more about your options and rights. We are here for you. We can help.